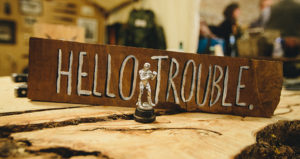 As we traveled the final stretch of our expedition the feeling that Trouble was taunting us grew stronger. Hurricane Sandy stormed through the area just before we embarked on our voyage to New York City, and it had been on the back of our minds ever since. We were a long way from Portland, but this still felt like the home stretch.
Trouble is standard protocol for us, but the aftermath of a natural disaster isn't one you can easily look forward to. Sandy was an unwelcome guest on the East Coast, but she still showed up with a bad attitude and trashed the place. The destruction from strong winds and heavy rains had been met with the stronger will of the people. Sights of homes and businesses being demolished were echoed by sounds of a community rebuilding itself. We soon found out that Trouble wasn't only blatantly apparent, but looming in places we couldn't see. The team met up with Cory Higgins at Little Egg Harbor, NJ for a look at some of the specifics.
Cory and his company Jetty have been innovative in raising relief awareness and donations for the Jersey Shore. Shortly after their evacuation Jetty was already designing a custom fundraising t-shirt, which they began screen printing as soon as the storm cleared. The funds have all gone directly to the first responders and displaced community. The storm's destruction caused the demand for skilled labor to be spread too thin, and their idea has helped to procure the expertise needed in the field. If Trouble had been surfing up and down the coast, then we knew there was plenty more to find. We took a bite of the big apple and began to chew.
The team connected with Brandon D'Leo from Lava Girl Surf, an organization at the forefront of organizing the relief and rebuilding of Rockaway Beach, NY. He explained that the Trouble they were facing was ever-changing. Each level of the community has varying needs, and the ongoing struggle is addressing them in personalized ways that have a lasting impact. Structural damage and debris removal needs at one building could be right next door to a home infested with spreading black mold. A volunteer might have two working hands, but no tools to put in them. We gladly assisted with some tools of our own, and made sure that no one working was empty handed. People always say that we pack more knives than we'll need, but we know a little extra can go a long ways. This place needed all the help it could get.
It seemed that no matter how much elbow grease and resources are put in, there is another problem that could use attention. Trouble was shapeshifting before our eyes. Half the battle is just picking the right form. We made haste back into the city where we established Field HQ for one last hurrah. The team had made contact with The Pop Up Flea where we were able to mingle with locals and start debriefing some our contacts back home about the mission.
Hearing the accounts and witnessing the humble volunteers made us reflect on our own expedition and all the generous support given to us. We traveled over 5,000 miles on a search for Trouble, and people happily supported the cause. Our friends and sponsors not only share our spirit for adventure, but shared the provisions necessary to sustain us for a month on the road. We would like to give a sincere heartfelt thank you to: Danner, Poler Stuff, Tanner Goods, Stumptown Coffee, Filson, Churchkey Can Company, Olympic Provisions, Stanley PMI, Hand Eye Supply, Eddie Bauer First Ascent, Sambazon, Klean Kanteen, See See Motor Coffee Company, Brave Soldier, Northwest Quad Van, Tire Factory, Portland Modern and Moulé. Without you this expedition could have easily turned into a suicide mission.
The American Expedition is officially in the books. So what comes next? Where will we go and what will we do? We don't know yet, and that's part of the fun. The search for Trouble never really ends. A few of the team have already volunteered to go on scouting missions, and requests for the Black Boar continue to trickle in from around the globe. Ice fishing at the North Pole sounds very interesting, but we also hear that Vegas is nice this time of year.
Whatever happens, we're sure to keep posting about it here. Check back soon as we'll be releasing video from the expedition for a closer look at the places we went and the Trouble we found along the way.
Hello, Trouble. We'll meet again soon enough.