The Bonneville Motorcycle Speed Trials is the premier motorcycle land speed racing event. Participants from all over the country come together every year to test their vehicles and shoot for a world Record. At this year's Speed Trials, 52 AMA National Records & FIM World Records in 7 categories were set (pending ratification). Some came out to beat their personal best, while some competed for the first time.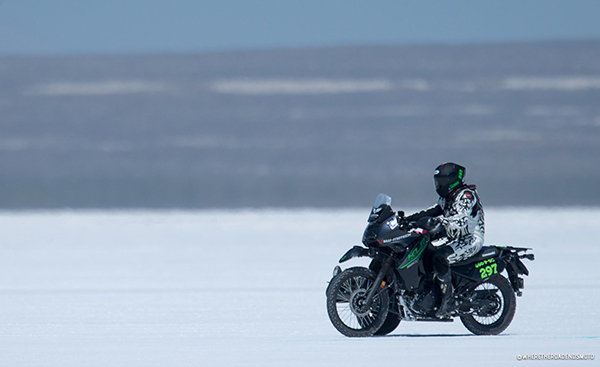 In the video below, Simon is getting ready to run his Kawasaki ZX14, which holds the 1650cc class record at 213 mph. Earlier in the week, he had some over-heating issues that limited the bike to about 150 miles per hour.
<iframe src="https://www.youtube.com/embed/UdoTKRiMjj8?rel=0″ width="560″ height="315″ frameborder="0″ allowfullscreen="allowfullscreen"></iframe>
Simon attempted to set a new record this year: KLR 650cc with a sidecar. At 72mph he thought he had it. Unfortunately, the record was dismissed after measuring the KLR's displacement at 651cc and therefor out of the 650cc class. There is always next year.
Where the Road Ends is a team of U.S. military veterans will ride motorcycles from the Arctic-Circle to the tip of South America, crossing the infamous Darien Gap in the process. The team will overcome subzero temperatures, sweltering heat, and miles of untamed jungle to complete an expedition which can only be considered an ultimate test of will. Follow their journey here.