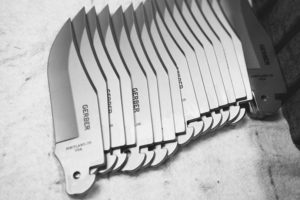 Every knife has a story – if lucky, that story has more than one chapter. Gerber's iconic Gator is one such knife; not only credited with many successful chapters, but now also a sequel that represents hard work, creative minds, and the impressive evolution of the Gator legacy. As the Gator Premium knives usher in a new era of first-class American made innovation, we celebrate the humble beginnings and storied history of the Gator family.
It began as success stories so often do – as the answer to a problem that needed solving. Born of necessity and fashioned into existence through fearless design, the Gator Fixed Blade is a prime example of what can be created when an obstacle is seen as an opportunity. In the early 90's, if a knife had a rubberized handle that rubber sleeve was more than likely applied by pressure. The standard of its day, this method was not without its downfalls – the main one being that the rubber would peel off of the handle frame over time. Not ideal. Embracing the challenge, Gerber designer Brad Parrish, alongside a team of creatives, collaborated on how to address this problem – what they came up with would have a lasting impression on the world of knives.
As the first of its kind, the Gator Fixed Blade was a bold step in a new direction for knife design. The beauty lied in the groundbreaking technology employed – an injection molded frame with a rubber overmold handle that could stand the test of time while allowing the user unparalleled control and comfort. The Gator's humble beginnings were quickly overshadowed by praise for its creative ingenuity and forward-thinking design. At the 1991 Blade Show the Gerber Gator Fixed Blade took home the coveted prize of Most Innovative American-Made Design, a mantle that stands as a testament of success to this day.
The tried and true design of the Gator proves that a simple design can stand the test of time, if done correctly. Straight forward and easily maintained, the knife gained fans from all walks of life. Although the Gator line has since come to be synonymous with hunting (and for good reason), the original knives were not marketed as hunting knives. Intended for utilitarian use, the Gator knives were built for any task and anybody – a knife that could translate into any situation that the user might find themselves in. Over time, this approach saw the Gator gain massive popularity; Gerber seized the opportunity to build an entire family of Gator products off of the demand.
Today, the Gator family of products is heralded as iconic – a physical representation of determination and creativity. The trailblazing spirit of those original Gators lives on in a new generation of knives, the Gator Premiums. The elevated, first-class reincarnation of everything that made the originals the best in class, the Gator legacy is once again preserved for generations to come.