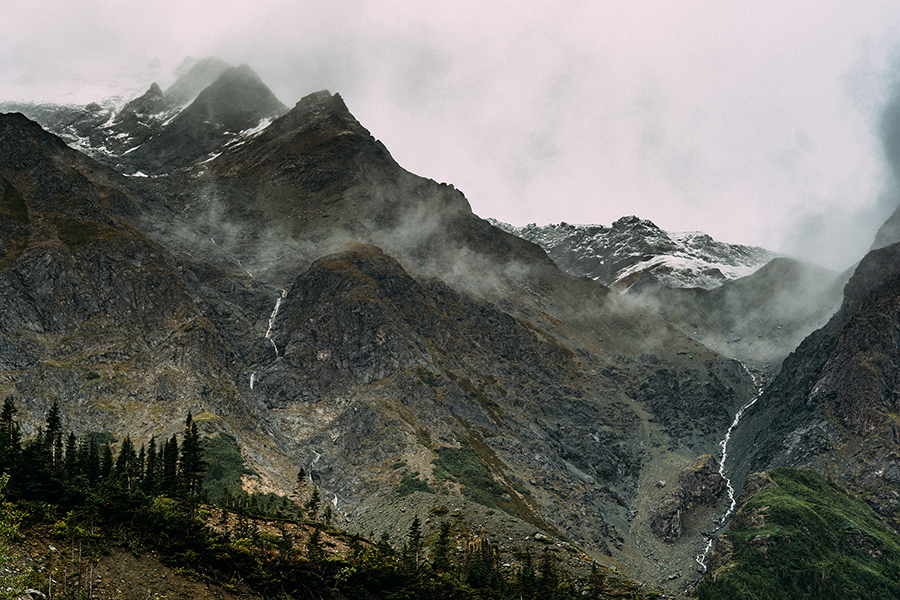 Trip report and recipe written by Adam Foss: hunter, adventurer, and filmmaker with Foss Media.
I peered down the impossibly steep fold in the mountain.
Layers of stacked rock unraveled downward to a menacing underworld below. Spires of grey rock jutted up towards me like twisted metal. Though the late-summer sun warmed my face, a wind began to rustle — a reminder of the fleeting northern British Columbia summer that would soon give way to fall. I shivered slightly and tried to sharpen my focus on what lay at the end of the chute a half-mile below.
I had marked the blue-black hue of the Stone's sheep ram and his six of cohorts grazing somewhere below. Observing the band all day, I was unable to get within effective range of the compound bow that waited patiently slung over my shoulder. It was getting late in the afternoon and the rams had moved their way into the steepest cliff-ridden part of the colossal rock formation.
Once I stepped off, I knew my return by the same route was not guaranteed. I'd likely destroy the meager, rotten footholds during the descent. But there were rams below. I marked the location on my GPS with a downhill skier icon — a joke to myself as I dropped into what felt more like the opening to a ski movie than a sheep hunt. I took a deep breath and lowered myself below the rim.
Wild sheep live in some of the most remote and wild country still present in North America.
To witness a sheep band gliding effortlessly across a vertical rock face, or a pair of equally matched rams crashing heads with the brutal force of two Volkswagens makes it impossible for onlookers not to be left awe-inspired. The pursuit of these regal creatures has enthralled me for the entirety of my life.
The landscapes that sheep hunting has taken me have been stunning, but they've also been harsh and unforgiving. Jagged rock, snow, ice, horrific mountain storms and wind — all in the name of a good hunt. To earn a chance at taking a ram off the mountain takes commitment, great effort and a healthy amount of stubbornness.
Hunts typically occur backpack style and may require horses or small bush planes to access the immaculate mountains found in the remote corners of the earth. It's normal to cover great distances while carrying 10-14 days worth of food and gear over dizzyingly steep terrain.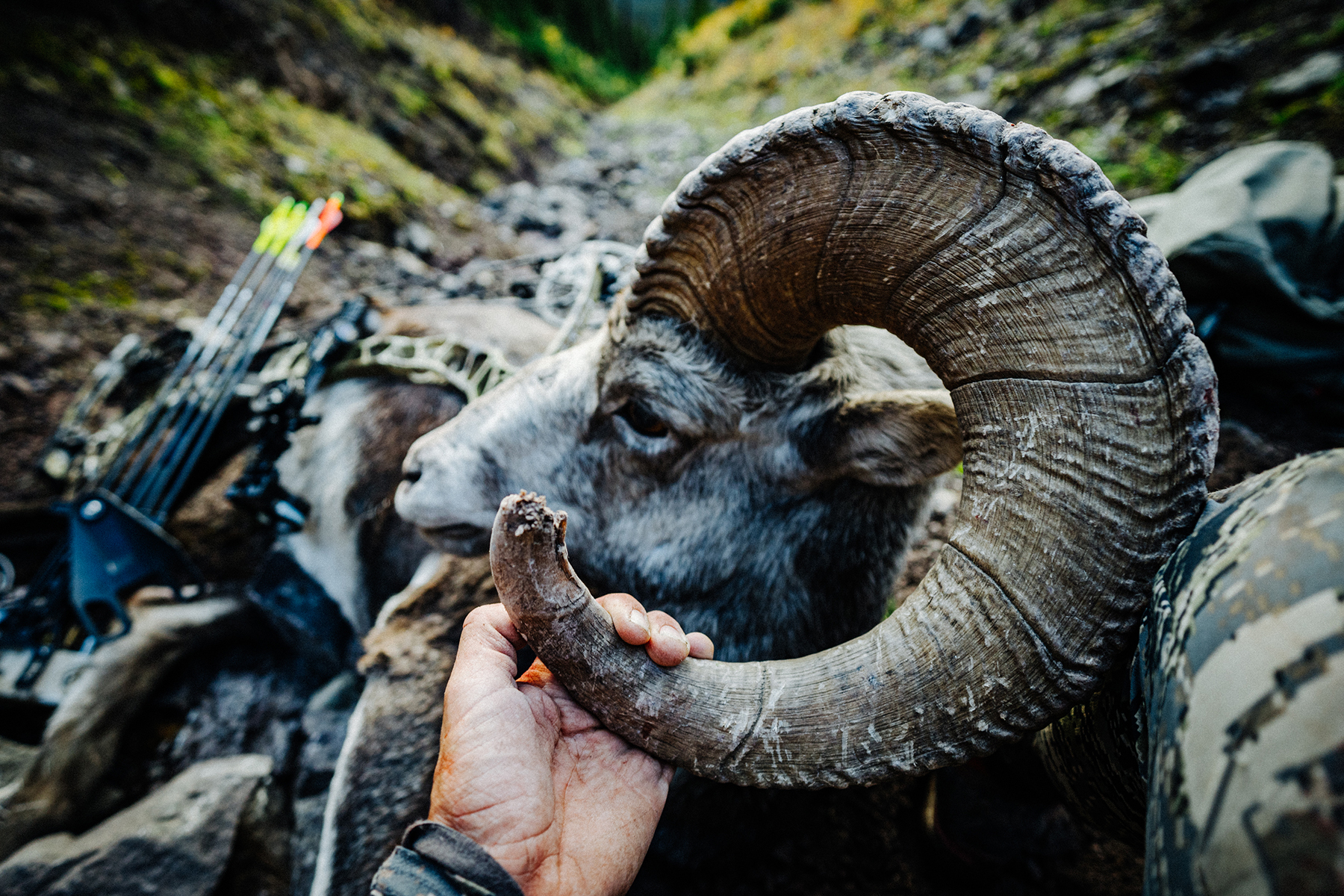 Last summer, that old, dark ram was waiting for me at the end of the winding ravine.
I was finally able to fill my tag. What followed was a twelve-mile descent through a maze of sheer crumbled chutes, tangled willow and ingrown pine. As I plodded along, my pack held the deboned meat of the entire ram, my bow and gear — a load that weighed a (conservatively) estimated 110lbs.
I find sheep meat to be particularly tender and delicious, and recognize that the opportunity is rare to enjoy it. Compared to moose or elk, they're not an overly large-bodied animal. Because of this particular context I, like many hunters, took special care in packing out, transporting and processing the hard-earned bounty. Rather than tossing the pieces that weren't quite large enough to be steaks or roasts into the grinder, I stockpiled them. When I had saved enough for a 1-2lb package, I'd wrap and freeze the collection.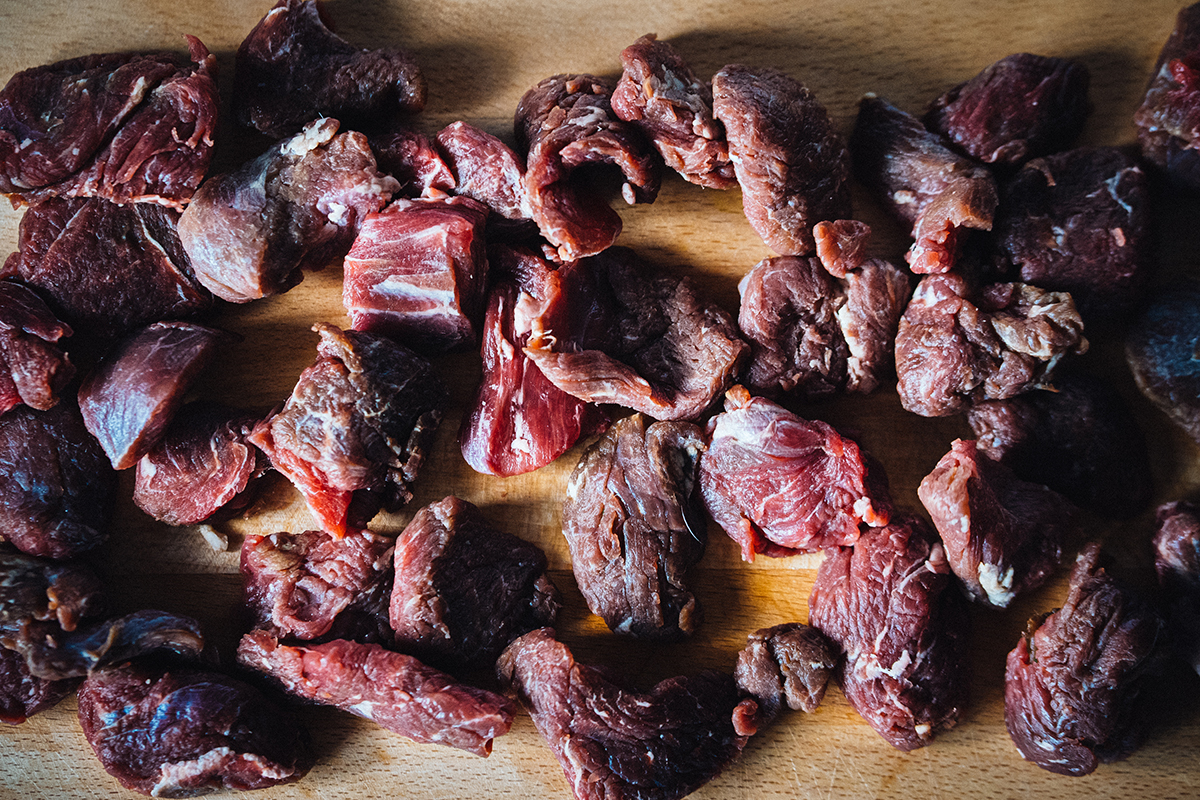 Now, as we dig through our freezers, it's always a treat to uncover that package of reserved sheep meat.
We often experiment with some of our favorite recipes found in cookbooks and restaurants by simply substituting game for beef, pork or lamb with great success. The recipe that follows has been inspired by Rachel Yang's My Rice Bowl and is absolutely fantastic — sweet, tangy and tender deliciousness all on a smoking barbecued skewer.
Not only is the meat lean and nourishing, but it also provides a welcome memory of that adventurous fall.
Enjoy this recipe with any smaller, less desirable cuts. If you typically end up grinding a lot of your scraps and are looking to diversify beyond ground burgers and tacos, consider reimagining your favorite recipes in a similar way (but don't get me wrong — who doesn't love burgers and tacos?).
Be safe and eat well.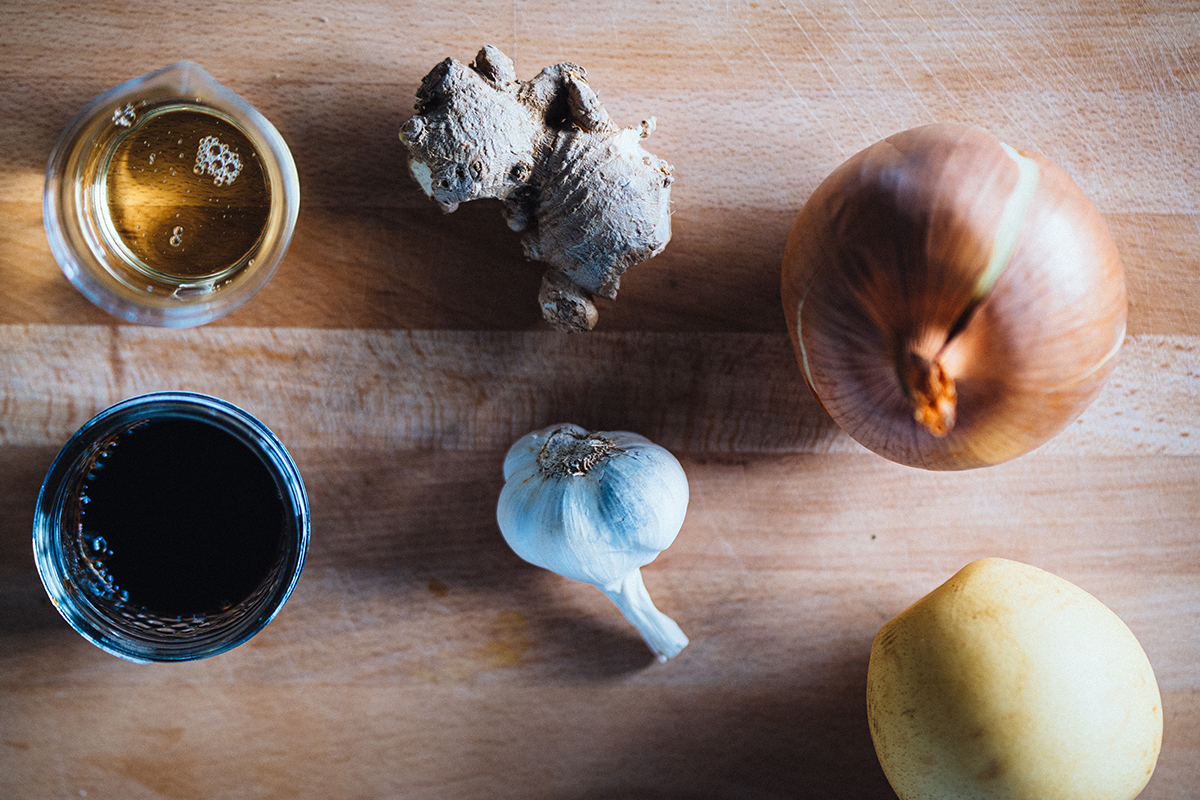 Ingredients:
Marinade
1 white onion
1 Asian pear
1" piece of ginger
3 cloves of garlic
¼ Mirin
2 tbsp. soy sauce
1lb. of game meat, cut into 2" cubes or similar
Instructions:
Combine onion, pear, ginger, garlic, mirin and soy sauce in a blender and blend until smooth. In a glass bowl, pour the mixture to completely cover the meat. Cover and let marinate in the fridge for 4 hours.
Thread the meat pieces onto a wooden skewer, trying to keep them as evenly sizes as possible. Fire up your grill of choice on medium-high and grill skewers for 1.5-2 mins per side, being careful not to overcook.
Serve with your choice of side, here we went with some kale and squash from the garden.