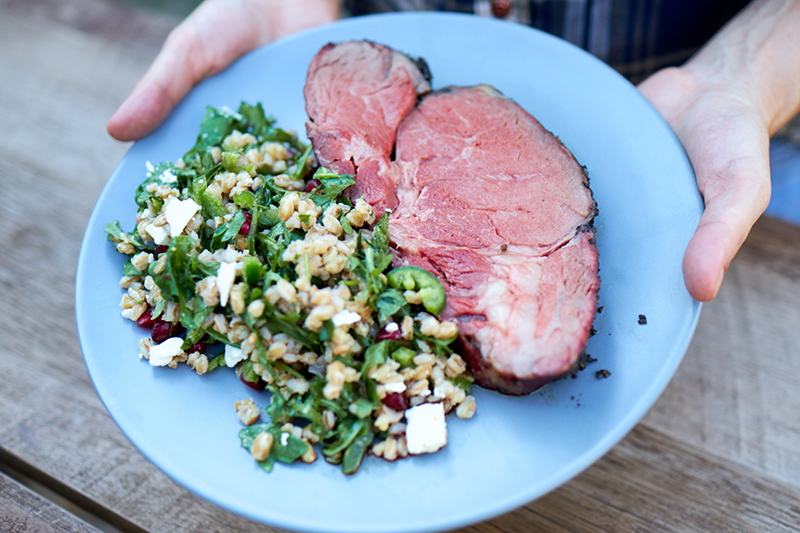 This classic holiday dish with a bit of a modern twist will really kick things up a notch this holiday season.  For all you hunters out there, this recipe can be substituted with elk or venison backstrap too – just plan for the cook time to be shorter. It can also be made in an oven rather than a smoker.
Smoked Prime Rib with Black Herbed Butter.
INGREDIENTS:
+ 1 x 5-7 lb boneless prime rib
+ 2 x sticks salted butter, softened
+ 2 tablespoons Hardcore Carnivore Black beef seasoning*
+ 1 tablespoon finely chopped fresh rosemary
+ 1 tablespoon finely chopped fresh thyme or oregano
DIRECTIONS
1. About 30-45 minutes before cooking, remove prime rib from fridge. Heat a smoker or pellet grill to run at 275f. Oak, hickory or pecan woods are recommended.
2. In a bowl, combine softened butter with seasoning and chopped fresh herbs. Pat the prime rib dry with paper towel, then place it onto a rack. Slather the butter paste all over the prime rib, coating the top and sides at about 1/8-1/4 thickness.
3. Place the prime rib in the smoker. You can attach a probe thermometer to monitor temperature, or just use an instant read thermometer. Cook until the roast reaches 125-130f internal temperature (medium rare), which will take 3-4 hours.
4. Wrap in uncoated butcher paper or foil, and allow to rest for at least 25 minutes before slicing.
(*If not using HC Black, you can substitute with a generous amount of salt & pepper)