Gerber boasts a long history in the Pacific Northwest, designing quality knives and tools that are purpose built for hard working individuals and outdoor enthusiasts. The products may vary in application and user, but one appreciation runs true throughout the greater PNW: that of a good craft beer. When Gerber learned that the folks at Boneyard Beer in Bend, Oregon carry Gerber knives as their everyday tool of choice, the mission was clear: check out the operation and get the new Sharkbelly knife into their hands. What began as a brewery tour and product photoshoot, quickly turned into a badass partnership that taste buds all over the region can benefit from.
Introducing the GERBER Sharkbelly IPA: a special-edition brew by Boneyard Beer.
"After working with the Gerber team and using their gear for so many years, we aimed for a brew that matched the bold and uncompromising attitude that Gerber represents. Our company cultures, branding, and attitudes blend so well, this project has been exciting from the get-go. The Sharkbelly is an everyday carry knife with no frills that is easy to use; likewise, the Sharkbelly IPA is a straightforward, clean, crisp IPA that cuts to the chase and leaves you wanting more." – Nick Murray, Director of Sales & Marketing, Boneyard Beer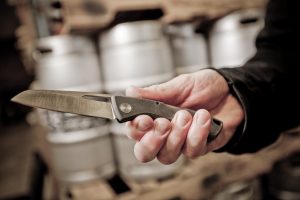 The announcement comes ahead of a limited-run distribution in the Portland, Oregon metro area, aiming to give Gerber fans a chance to experience the hometown brand in a new way. Bend locals can also find it on tap at Boneyard's tasting room, and if demand calls for it the Sharkbelly IPA may find a place in the permanent rotation for the brewery.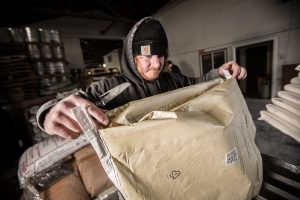 The Sharkbelly is an update to the classic everyday carry pocket knife with lightweight utility and standout features. Designed and built in Gerber's Portland, Oregon manufacturing facility, this American made knife is available in partially serrated and full fine edge blade variations. The 420HC modern sheepsfoot-style blade is easily deployed with a sizable thumb hole, revealing flat top serrations that are easy to sharpen on a flat stone and practical for daily abuse. The tactile SharkSkin Grip™ succeeds in function and aesthetics with unidirectional scales that provide additional traction when in hand – smooth in one direction and grippy in the other.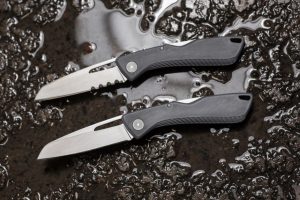 Look for the distinctive tap handle featuring the Gerber logo and a hammerhead shark swathed in an American flag, an ode to two unapologetically badass brands that serve as the masters of their respective crafts.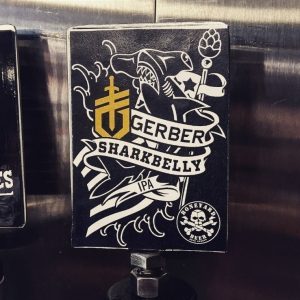 Get it while it's tapped at these locations:
B2 Taphouse – Salem, OR
Flyboy Brewing – Tigard, OR
Big Al's – Beaverton, OR
The Growlerie – Beaverton, OR
Loyal Legion – Portland, OR
Bailey's Tap Room – Portland, OR
Learn more about Boneyard Beer here. Check out more from Gerber here.