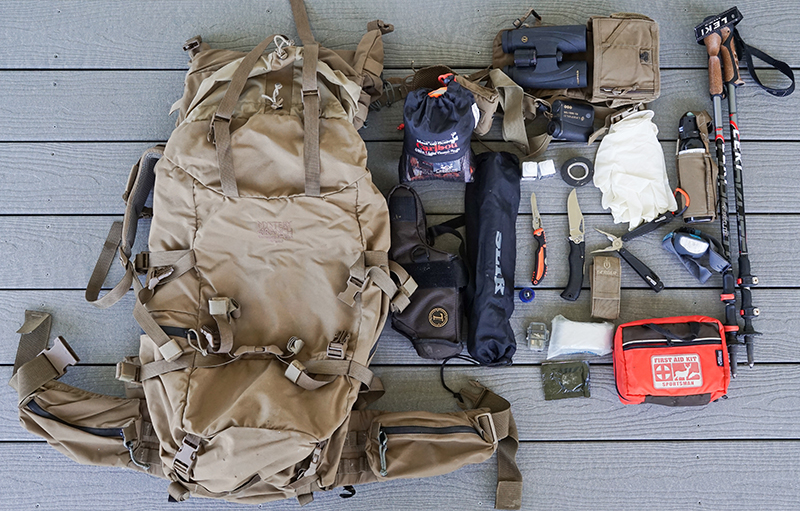 Some would ask what a public land elk hunter has in his day pack for elk hunting.  I am amazed at the interest people show in my pack contents.  Given how important these items are and the years of experience sorting out what works and what is necessary/unnecessary, maybe I shouldn't be surprised.
I shot a bull in Montana last year and I realized that darkness would soon be upon me.  The bull had dropped a couple miles from camp.  Thankfully a friend was there to expedite the process of converting this big piece of protein into manageable quarters.
Like most often happens, this bull and his cows were not near any roads or motorized trails.  He was in a far corner of the public land.  We had followed them for over a mile when their noisy feeding calls gave their presence.  Sneaking to a fort-like rock wall, we peered down and smiled at our good fortune.  My partner was holding out for something huge.  For me, big was big enough.
As the bull cleared a small pine tree, the crosshairs settled.  The shot was perfect.  Upon punching my tag and taking a few pictures, it was all work from this point forward.  I now had four trips to shuttle these elk pieces back to our camp while my buddy continued to hunt tomorrow.  A difficult task made easy by having a "base package" of necessities I know will allow me to take care of a big-bodied bull in short order.
What's in my pack?  Well, here it is.  First question most will ask, "What pack do you prefer?"  For me; it's a Mystery Ranch Metcalf, the result of years of hauling elk quarters and finding the most versatile comfortable pack for this task.
Since I leave the truck with confidence I'm going to fill a tag, you notice a lot of my essentials are what I need to convert 700 pounds of elk into chunks I can haul back to the trailhead.  We're talking knives, game bags, gloves, etc.
Surgical gloves are a must.  Yeah, field processing an elk is not surgery, but I never go without the latex surgical gloves.  Where I hunt, Brucellosis has an infection rate of 20%+ in some areas.  Look up that term and you will quickly follow this advice.  Plus, dry hands stay much cooler when doing this work in cold weather.  And, the cleanup is far easier.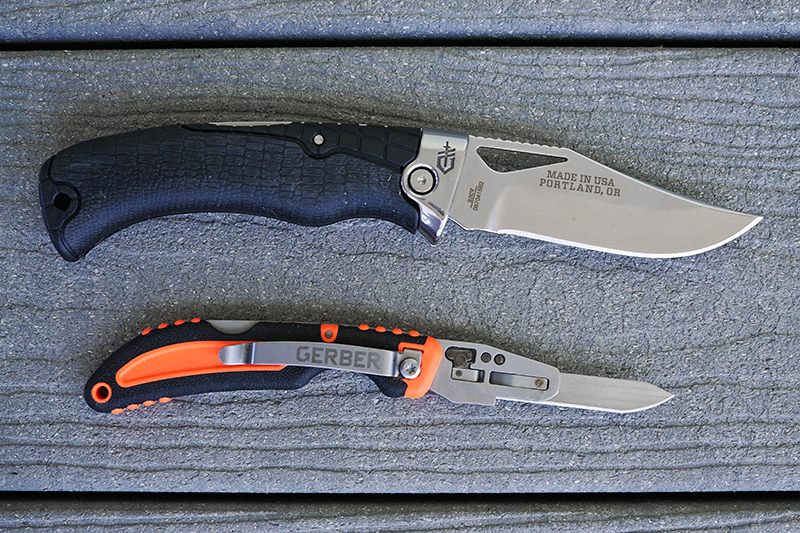 When it comes to knives, you see I carry two of them.  The bright orange is the Gerber Vital; the best replaceable blade knife you will ever find.  Ever worry about losing a finger while trying to change your scalpel blades?  Problem solved with the Vital.
Next to that is the black Gator Grip handle of the Gerber Gator Premium.  This Gator is the sharpest knife I've found and I've tried or tested most every elk hunting knife out there.  Not only is it scary sharp, but it stays that way.  This Gator has three beaver, a black bear, and a Sitka blacktail deer under its belt and it's still razor-like.  Going to keep this same knife around and see how many elk it takes before I have to rework the edge.
Game bags are a must, especially in warm weather of archery season.  I've tried them all.  Caribou Game Bags are synthetic, reusable, and keep all insects and dirt from penetrating.  I know how serious a hunter is about his food by looking at his game bags.
Trekking poles are a big advantage on flat ground.  Load your pack with 80 pounds of elk quarters to be hauled down a steep slope and you will be happy you brought these poles with you.  Trial and error has me using the Leki Corklites with the snap locks.
Leupold optics are in my pack (spotter) and fastened to my chest (bino and rangefinder).  When I see an elk hunter without binos, I instantly know how serious they are/aren't about locating elk.   I carry a spotter to let my eyes do the walking.  A rangefinder keeps my ranges honest and my shots accurate.
At times I will add some other items to this day pack, depending upon archery or rifle, late season or early season.  You see two little bottles of Aquamira drops for emergency hydration.  I always carry a Platypus Big Zip 2Litre hydration bladder, no matter the season.
Take some time to build your "base pack" that goes with you no matter where you go.  Add to it some variables, depending upon your season or species.  Nice to know if you need it, you have it.
FREE Download – Randy Newberg's Elk Hunting Guide
Check out Randy's insider tips and learn everything you need to know to join the hunt. Use promo code GERBER for a free download.